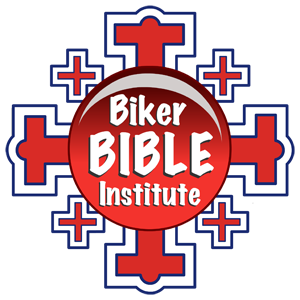 INTRODUCTION TO BIBLICAL STUDIES COURSE
BACKGROUND …
The Bible is the most important book ever written and compiled. If nothing else, it is the greatest piece of human literature ever produced. It is the revelation of God to man. What could be more profound, yet more beautifully simple, than the eternal God stooping to use human language to reveal Himself and His sovereign plan for mankind by way of a written record.
DEVELOPMENT …
This course was developed and graciously made available for the Biker Bible Institute by Pastor Joe "Mojo" Moore, D.Min.
APPLICATION …
This course is delivered in an "asynchronous" environment. In plain English, that means you work on the course at your own pace.
To complete the course, students should read each chapter of the eBook provided online, and then, make one or more meaningful comments in the Discussion Forums in each unit of the course.
The course will be evaluated on a "Pass/Fail" basis.
That is, students will be evaluated on:
That they read each of the chapters in the course eBook.
That they offered meaningful insights in each of the Discussion Forums in the group.
To Enroll:
HERE'S HOW … to enroll in this course
STEP 1: Email The Biker Bible Institute …
Send us an email at:
bikerbibleinstitute@gmail.com
STEP 2: Include the following information …
Include the following information in your email message:
Name of Course
First Name
Last Name
Phone Number
City (where you live)
State
STEP 3: Done …
When we get your email message, someone from the Biker Bible Institute will call you at the phone number you provided. We will answer any questions you have and set up your login access to the course.
We hope you enjoy your course! Blessings!