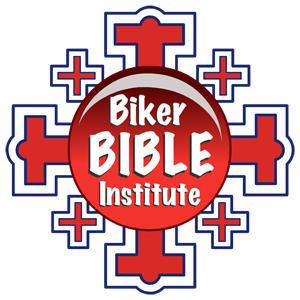 Has God led you to support the Biker Bible Institute?
Thank you for your consideration in becoming a part of BBI's international outreach to bikers in local communities and churches throughout the world. Partners of BBI join together to form a network of Christian bikers who want to combine their great passion for the open road, and their commitment to work in unity as we minister to those whom God has called us to serve.
As a resource team, BBI provides helpful and practical tools for bikers including Book of Hope Road Edition Bibles, Ready to print Bible study material, evangelism video training.
We offer all our Bible studies, Bible College Courses and our Chaplain's course along with many other resources such as our radio show "Talk The Talk" at no cost to the user or student.
We also offer opportunities from our various ministry partners such as biker T.V. and Pastor Tae.com and  others who have much to offer.
BBI MISSION:
The mission is to make disciples, through encouraging the study and discussion of the Word of God.
BBI VISION:
 To provide opportunity for "10,000 Bikers!" to open the Bible every week.
Your support will help us to achieve our mission of making disciples and our vision of seeing bikers across the world, opening the word of God on a weekly basis!
Thank you for partnering with us!
SUPPORT …
Your donations are tax-deductible through Biker Bible institute (PayPal)
You do NOT need a PayPal account.  We accept almost every major credit or debit card.