ABOUT THE COURSE …
The Chaplain's Course provides a foundation for Christian bikers and others to learn the fundamentals of being a chaplain.  This course is also good preparation for "missionary training" since so many Christian bikers serving as chaplains are actually missionaries in their local communities.
The Chaplain's Course has two sections (Chaplain's Course I and Chaplain's Course II).  Each section includes six (6) units for a total of twelve (12) units to the Chaplain Training program.  The units in this course coincide with the chapters in your course textbook.
COURSE REQUIREMENTS …
The course requirements include:
Assigned reading from the course textbook
Watch videos online
Do independent research (online)
Write two short papers (your "Philosophy of Ministry" for Chaplains Course I) and (your "Next Steps" in your ministry as a chaplain for Chaplains Course II).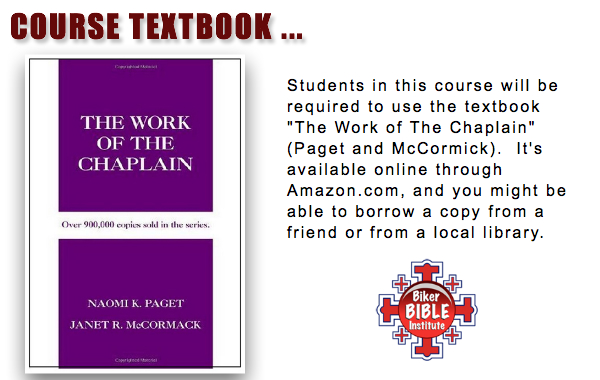 COURSE FEES …
Like all Bible training from the Biker Bible Institute this course is FREE.  We do not charge fees to take our courses and gain information about the Word of God.  As a matter of full disclosure, you will be required to use a textbook.  If you cannot borrow a copy, the cost to purchase is about $10.  The Biker Bible Institute does not receive any royalties for sales of this book.
TO ENROLL IN THE COURSE …
STEP 1:

Email The Biker Bible Institute 

at

:
First Name
Last Name
Phone Number
City (where you live)
State
When we get your email message, someone from the Biker Bible Institute will call you at the phone number you provided. We will answer any question you have and set up your login access to the course.
TO PURCHASE THE TEXTBOOK …
This course is based on the textbook The Work of the Chaplain, by Naomi Paget and Janet McCormack.  You will need the textbook for this course. If you have a friend with the book or if it's available in your local library, you can borrow it THERE.  But if you're unable to find it locally, you can get it online using Amazon.com link below:
CREDENTIALING AS A CHAPLAIN …
Some Christian bikers who complete this course might want to receive credentials so they can further practice their ministries as a chaplain or missionary. The Biker Bible Institute is authorized to license Christian bikers as chaplains to further practice their ministries within their communities.
Those men and women who desire to be credentialed after successfully completing this two-part course, can establish and maintain their Chaplain's credentials for just $30 a year.  We will have a separate page here online for credentialing (licensing) as a chaplain.
We do request a $30 donation for the annual credential / certificate / license. You must have completed the training program in order to request the license certificate. Use the link below to get started:
Don't wait! If God is calling you, get started today!
Blessings!